Charlotte's best source for cupcakes, cakes, pies & cake pops! Contact us at charlottecupcakecousins@gmail.com
Tuesday, March 6, 2012
Adventure Time is a cartoon (on the Cartoon Network, I believe). These cupcakes are the main characters.
Adventure Time Cupcakes
Wednesday, February 8, 2012
My adorable taste tester who refuses to eat any cake other
than chocolate.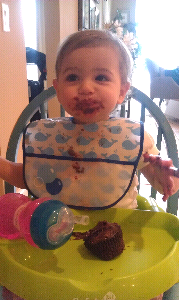 For a second birthday party at gymboree.
Saturday, January 7, 2012
Funny story about this cake. The Charlotte Cupcake Cousins were actually unknowingly born 10+ years ago when I decorated this cake for about 2 hours and Danielle chopped it in half.
I have been so scarred, I haven't been able to make it since. Well this year, my mom convinced me to decorate it not one but two times. Luckily I have gotten a lot faster at decorating in 10 years so I did not have to spend 2 hours on it.
Since Danielle wasn't able to attend this dinner, our cousin Nicholas did the honors of chopping it in half (more pictures of the evidence to come later).
Snowman cake
Snowman Rice Krispie Treat Cake